HDHomeRun web interface
While connected to the same local network as your HDHomeRun, open a web browser to http://hdhomerun.local
NOTE: That address will go do the first HDHomeRun device found on your network. If you have more than one HDHomeRun device, use the "device ID" printed on the bottom of the unit instead of "hdhomerun" in the address. For example, if your device ID was 104FFFFF then you would go to http://104fffff.local
The web interface is there to configure your device. You can update the latest firmware, set your preferences, perform channel scans, and activate your DVR service from here.
Device menu
Channel lineup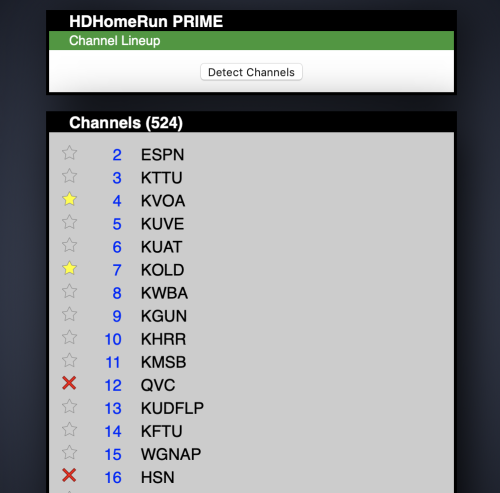 The channel lineup will allow you to force the HDHomeRun to rescan for channels, as well as mark channels as favorites or hide channels completely.
To get to the channel lineup:
While connected to the same local network as your HDHomeRun, open this link in a web browser:

http://hdhomerun.local

NOTE: That address will go do the first HDHomeRun device found on your network. If you have more than one HDHomeRun device, use the "device ID" printed on the bottom of the unit instead of "hdhomerun" in the address. For example, if your device ID was 104FFFFF then you would go to http://104fffff.local

Click on the channel list link (normally the second line, under the version number).
Rescanning channel list:

Click on the "Detect Channels" button to force a rescan. The HDHomeRun will also attempt to scan channels when it powers up, as well as doing periodic updates in the background to look for new channels.

If your tuner supports more than one TV standard, you will be able to choose that before scanning.
Favorites or hiding channels:

Channels can be marked as favorites or hidden from the HDHomeRun app and from certain third party apps:

Click the star icon next to a channel once to "favorite". Favorites will show up when using

UPnP/DLNA

, but are not currently used in the HDHomeRun app.

Click the star icon a second time to turn it into an X to hide a channel.

If you want to make the channel visible again, click on the icon a third time to take it back to the default (neither favored or hidden).
If you change the channel lineup and are using a DVR storage device (with a HDHomeRun DVR subscription), you may want to reboot the storage device in order to force it to update the new channel list, rather than waiting for the two to sync.