Setting up an HDHomeRun
The HDHomeRun works by providing live TV to your home computer network from over-the-air TV broadcasts or from a cable TV provider (CableCARD only). This allows you to use any device on your network, such as phones, tablets, laptops, computers, set top boxes, and more, to watch live TV.
Quick start guide
How the HDHomeRun connects with the rest of your network and devices (click to enlarge):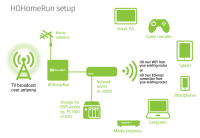 1. Connect your HDHomeRun

Step 1:
Connect your antenna or cable source.

Step 2:
Connect to your network or home router using the provided ethernet cable.

Step 3:
Connect the power adapter. The green ethernet light will power on.
CableCARD instructions coming soon
2. Download our free app for live TV
Windows:

Android:

iOS:

Mac:
3. Go to my.hdhomerun.com

While connected to the same local network as your HDHomeRun, open a web browser to http://my.hdhomerun.com
my.HDHomeRun.com is there to configure your device. You can update the latest firmware, set your preferences, perform channel scans, and activate your DVR service from here.
For more information about the my.hdhomerun.com page, see myhdhomerun.
hdhomerun
Last modified:

2019/10/08 00:58